See Also: Original Scan <> CMH2 geneology <> Granny, aka MBNH <> Maisie, aka MHD <> Wayzata Photo Albums featuring Portait Cards of CHM1's kids <> CMH1 & ML <> Nichols <>
Maisie's Three Families History
Mary Hardenbergh Dethier
November 1974
The Three Families of the stained glass window: Lee - Hardenbergh - Nichols
Granny (Margaret Baxter Nichols Hardenbergh) has created a sort of family historical marker in St. Mark's Cathedral. The stained glass window is in memory, of three interrelated families. Not only were they important in the development of the church but they were part of the history of early Minneapolis and these people are your major ancestors on your mother's side! (Audience: Maisie's grown children)
Your Ancestors
On the Nichols side you're all familiar with great grandfather Harry P. Nichols and his Salem shipmaster ancestry. You're somewhat aware of great grandmother Alice Shepley Nichols and the Shepleys in Fitchburg and previous to that Saco and Fryeburg, Maine and Groton, Mass. (From Groton the John Shepley of Granny"s story was taken by the Indians when his family was massacred and he was allowed to go back to let the cows loose but honestly returned to years of captivity.) You may even have heard of(great) grandpa Nichols' mother's family, the Ainsworths and their alliterative family names and beloved farm in Bethel, Vermont.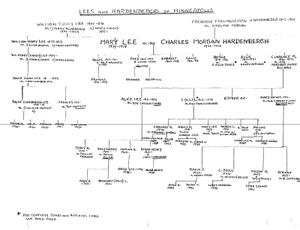 But because I don't think you know much about your great grandfather Charles Morgan Hardenbergh and your great grandmother Mary Lee Hardenbergh - I'm writing the following meandering bits of information which may help those who didn't grow up in Minneapolis. (scan)
To clarify relationships - there follows [left] the family tree as relates to Hardenberghs and Lees in Minneapolis.
Early Pioneer Settlers in Minneapolis
We all think of Minnesota as settled by the Scandinavians but actually the New Englanders did the first frontier settling. You can visualize the part your ancestors played in building Minneapolis when I point out that W.H.Lee came from Hartford, Conn, only eight years after the first 200 "squatters" set up the village named Minneapolis in 1855. The Lees and Hardenberghs were established in business and living in "one of the most substantial houses" by the time the City was chartered in 1867.

William Tully Lee was a druggist in Hartford (some of his prescription recipes, written by W.H. Lee (?) are in a notebook currently at 66 Groveland Terrace). His son, William Henry Lee, already married with two sons, went west with his second wife always Looking for a better cLimate for his T.B. Before William Henry left Hartford he apparently had befriended Charles Morgan Hardenbergh who married his sister, Mary Lee in I860. (Roger Lee has handwritten history of Lees started by William Tully)

Charles Morgan Hardenbergh had perhaps come to Hartford on business. He had grown up in New Brunswick, N.J. where his great grandfather, Rev. Jacob Rutsen Hardenbergh, had been the last pastor of the Dutch Reform Church to preach in Dutch and in 1782 installed as first President of Queens which became Rutgers College. The Dutch Hardenberghs had come to New Amsterdam in 1650's and had owned vast lands in Ulster County, New York before the Revolution.

Charles and Mary Lee Hardenbergh followed William Henry, stopping in S Chicago in 1863 where baby Agnes was born and their first-born, Charles Morgan Hardenbergh Jr., died. In later years "Aunt Agnes" had no birth certificate because it was burned in the great Chicago fire of 1871! They traveled by train, river boat, ferry and ox cart - the Civil War had interrupted some means of transportation.

Father William Tully also was lured to Minneapolis with his second wife, Mary Collis. (Mary Collis of New Haven was not the mother of Mary Lee but was beloved by the children and grandchildren in Minneapolis.) Mary Alderman of Hartford was the mother of the Lee children and her picture hangs in the Collis Hardenbergh house at Hadley Lakes, Wayzata.

At first W.H. Lee and Hardenbergh had a successful iron foundry 1866 but Charles Hardenbergh was later encouraged by his friends the Christian brothers to go into the milling business. He built his own mill in 1879 and prospered as a grain merchant - Crown Roller Mill and President, National Milling Co. His mills eventually became part of Northwestern Consolidated Milling Co.

In 1867 Father Tully built the stately house on 6th St. & Nicollet where he lived with the Hardenbergh family. This house had the first plate glass windows in Minneapolis and was worth moving to 9th St. & 6th Ave. So. when it had to make way for the Syndicate Block (now Donaldson's) in about 1879. (The house was finally torn down in 1957 when Clarence bought the old mantle and stair spindles for salvage. The mantle was originally thought to be marble but turned out to be slate and is in the rebuilt Blythewood house as a hearth.)
St. Marks Beginnings
Together the two Lee men and their wives and Mary Lee and Charles Hardenbergh played an important part in starting the small mission church of St. Mark's which later became the cathedral church of the Diocese of Minnesota. William Tully Lee was the first Senior warden, from 1S68-1370; William Henry Lee was the first organist and Charles Morgan Hardenbergh was the Senior Warden from 1880 to 1902. Tully's wife, Mary Collis, started the first women's church groups, and his daughter was the expert button holer in the making of saleable items to pay for the Church needs. W.H. Lee gave part of the land for the first rectory next to the old St. Harks Church on 6th Street. Mary Collis also made the first donation recorded in the St. Marks Book of Memorials (find the original in the church with correct wording: "for the indigent females belonging to the parish?)
The Lees
Tully Lee died in 1870. His son, William Henry, died in Milan in 1873 where he was traveling with the Christians. William Henry's son, Harry, was older than his cousins Agnes, Bess and Clarence and went into the banking business at age 15 and was similarly followed by his son Roger Isham Lee in the next generation.

In 1909 Roger and Caro Lee and Clarence Hardenbergh and Margaret were young marrieds, both women pregnant and taking piano lessons from the same teacher. The babies became Roger Chamberlain Lee and Alice Lee Hardenbergh. Roger C. Lee was Class '32 at Harvard with Collis M. Hardenbergh '33, but Roger and his sister eventually settled their families in Missouri and Kansas. These Roger Lees had changed their church activities to Hennepin Methodist - though Cousin Harry Lee left a bequest to St. Marks to help pay off the mortgage as he hated debts. (He had pumped the bellows as a boy for his father's organ)

In the 1920's and 30's Cousin Harry Lee and his 2nd wife, Mary, entertained the Hardenbergh relatives on Christmas or Thanksgiving - playing games such as 'guess your weight'., in a lovely home on Pillsbury Ave. Similarly in the 1930's and 40's Roger and Caro had family dinners at their Minnesota River home which sported a swimming pool and lawn boiling. Roger I. Lee (and his father and son) was an early expert collector of miniature trains.
Lake Minnetonka
In the early 1870's Minneapolis residents were already becoming interested in summer camps on Lake Minnetonka. Charles Hardenbergh together with the three Christian brothers bought lands from Harrington Farms on Point Lookout in 1877. The Hardenberghs had rented a camp for a summer or two on Prior Pt. The building of their own cottage in 1880 coincided with the sale of the 6th St. house and the building of the mill. The Hardenberghs spent long summers at their Blythewood home and after 1907 when a new year-round house was built, Agnes Hardenbergh and her husband Uncle Bill Hallowell spent most winters there. Charles and Mary Lee and various children always spent summers with them and during the winter rented various houses and apartments in Minneapolis after the original 6th St. house was sold.

Charles was lame from a hip injury (and later partially invalided by a stroke) by the time his youngest child, Clarence, was growing up. Clarence learned chess, to play it with his father. Charles was mechanically inclined, affectionate, and enjoyed camping out with his older boys. Mary Lee lived on 8 years with Agnes after Charles' death in 1910. She had borne ten children, was a marvelous housekeeper, efficient, public spirited, intellectual, admired and loved by many.

In 1880 Clarence was the first child in his area to be born of summer residents on Lake Minnetonka. There are diaries kept by the Hardenbergh children at the Lake - about the maids cleaning the bats out in the spring and famous stories about the Hardenbergh children rowing to meet their commuting father at the Wayzata train station each evening (neighbors could set their watches by the sight!) Elsie Hardenbergh kept a separate diary which her children inherited. (Collis has 4 years of the children's diary from Jan 1878 to Jul 1882) The Hardenberghs were the first to row out to the terrible steamship blow-up tragedy on Lake Minnetonka in 1885 and return with the body of Mrs. Rand. (The Rands built the Rand tower in Mpls. and have sent about as many women to Bryn Mawr College from Mpls. as the Hardenberghs)

There were summer resident sailboats on Lake Minnetonka very early - with racing a big feature in flat bottom square bowed scows with side boards (a design perfected by Ward Burton from New England). The Harden- berghs had several sailboats called the "Mary Lee" and vied with the Burtons, Christians, Crosbys, Pillsburys etc. for prizes over the years. In the next generation when the Clarence Hardenbergh family lived in Kansas City for 18 years, the older children - Alice, Collis, Esther - often visited Aunt Agnes at Lake Minnetonka during summers - for sailing and swimming, and in winter for tobogganing down a wooden ramp onto the Lake, for skating among the square fishing houses on Wayzata Bay and for ice boating. Aunt Agnes and Uncle Bill Hallowell developed Blythewood into a beautiful estate as the life on Lake Minnetonka became more and more elegant. Clarence loved the place of his birth and eventually bought out all the Blythewood house shares owned by his siblings and helped the Hallowells to maintain the house - visiting them every Sunday night for supper with his family. He and Margaret never lived there; Margaret preferred to live near the stimulating doings of the city and within walking and public transportation distances of church, schools and cultural activities.

The house burned to the ground level in 1957 when Agnes was 94 and blind, living in the Franklin Nursing Home (Uncle Bill had died in 19?? Collis Hardenbergh redesigned and built the present modern home on the old foundations in 1959. Thereafter it was rented until it was sold in 1973. Chalmers Hardenbergh retains a sentimental but unusable 3/12 ownership of Spirit Point and Spirit Island (Lots 5 & 6) - the last of the original Hardenbergh "homestead".
1890's Minneapolis .. Nichols arrival
You know well the story of the new rector for St. Marks, Harry P. Nichols from New Haven, and his daughter, Margaret, being welcomed at the church door by the Senior Warden, Charles Morgan Hardenbergh in February 1892. Clarence Hardenbergh, two years older than Margaret, and his older sister (by 3 years), Elsie, were very friendly with the Nichols children - the boys and Margaret playing in the Nichols back year despite being in different neighborhoods. For anecdotes of this period see your copies of the Autobiography of Margaret Nichols Hardenbergh. the Owlets, school, Sunday school, etc.

Clarence never lived in the historic Hardenbergh-Lee house so Margaret knew him in rented winter homes - particularly the house at 1311 2nd Ave. So. where Elsie entertained the Owlets.

While Dr. Nichols inspired changes and growth, particularly of women's and youth organization in St. Marks, his wife Alice was the very gracious hostess (particularly admired by people like Aunt Agnes) and a very early member of the famous literary group "The Peripatetics" (still going strong two generations later with two of her relatives members: Margaret Nichols Hardenbergh aged 92 reporting on Alaska and Nancy Chalmers Hardenbergh writing University term papers based on her Peripatetics member report) One of Alice's reports on Scholasticism, 1896, is at 6$ Groveland Terrace.
Older Hardenbergh Siblings
When Clarence was growing up the older members of his family were marrying. Bessie Hardenbergh's marriage to J.Willis Jones in 1892 in St. Marks was the first wedding Margaret Nichols ever attended. Willis Jones worked in the office of Deere - farm machinery. When their two sons grew up one went to live in Buffalo (Lee Jones) and the other to Seattle (J.Willis). Uncle Bill Hallowell, Agnes' husband, was a Philadelphia Quaker who came out to found the Hallowell Coal Co. which prospered until the advent of oil heat and the depression. Uncle Bill was the quiet old fashioned gentleman who enjoyed children and games and was our generations's host in Blythewcod. Tragically, their son, Penrose (a sickly child) died, while at Harvard of an overdose of pills.

Uncle Fred Hardenbergh had married Louise Legas, a Frenchwoman a few years his senior, who was teaching him the language. (Aunt Louise was the only person I ever knew who wore a wig - prior to the 1970's craze. They adopted two children who had troubles growing up in their house on Park Ave. where in the 1930's Clarence and Margaret's family visited of a Sunday evening. Daughter Helen became a wonderful doctor in California and is well remembered by Dethiers who visited her there for a Mexican supper in 1963, and by her Goddaughter, Helen Reid Hardenbergh, to whom she left a generous bequest upon her death in 1970.

Earnest Hardenbergh never married and was somewhat of a recluse. Margaret remembers him walking to work at the milL with his long flowing red hair. In later years he worked with clocks and watches in Wisconsin and in California where Helen Hardenbergh often visited him. Brother Collis died at age 22 while attending the Univ. of Minn.

Elsie Hardenbergh, after spending a sickly childhood at home being tutored but having many friends and beaux as she grew up, eventually went to Johns Hopkins Nursing School where she met Henry Hutchins. Doc Hutchins and Elsie were married in the new year-round Lake house in 1908 but lived the rest of their lives in the Boston area, mostly Newton Center. They and their three daughters, Mary Lee, Gretchen and Jane were always marvelous hosts to any of us passing through Boston or going to College (first Clarence at MIT '03., Margaret visiting her Salem relatives, and then the next generation: Collis and Roger Lee at Harvard and Esther at Harvard Med. School etc.) They were a wonderful famiLy - music, games, athletics, political talk, heart to heart discussion. They summered in East Edgeccmb, Maine along with the Woods. Mary Lee Hutchins later married Barry Wood producing another accomplished family. Gretchen married Dr. Fred Moll and Lived in Seattle - dieing tragically in a sailboat accident. Jane (Wren) never married and lives in D.C.
After 1900
When H.P.Nichols left St. Marks to go to Holy Trinity Church in New Vork, Margaret and Clarence had just finished their junior year in Mpls. Central High - Margaret then cook 2 years at the Brearley School in N.Y. before going to BMC. Clarence skipped his senior year and V7ent on to M.l.T. They rectrned to see their classmates graduate from Central in 1900 - Margaret visiting Elsie and ether friends at the Lake. After that most all contacts between C. and K. were on the east coast except when Margaret went out to be in Elsie's wedding at Blythewood.

When Clarence finished "Tech" (for which he never had any sentimental attachment. We never heard anything about it until at age 90 he told me a story on himself about almost being kicked out of his boarding house- dormitory because he spit down the stairwell on someone from the top landing!) - he worked in the Boston area and then in the Crompton Knitting Loom Works in Worcester for several years. Through Elsie and Hein (Doc Hutchins) he and Margaret saw each other occasionally, 'Clare', as his sister called him, returned to Minneapolis after his father had a stroke, abandoning his mechanical engineering career and starting his long life as a business man in the flour milling industry. Except for 18 years in Kansas City with Southwestern Milling Co. he spent the rest of his life in Minneapolis.
Clarence & Margaret Hardenbergh and Family
They were married in October 1909 at Holy Trinity Church in New York with Mpls. Owlets among the members of the wedding party (plus Avis Putnam). They immediately returned to Minneapolis for two years of young married life at 2525 Colfax Ave. So. before moving to Kansas City, Mo. Their honeymoon trip was a camping trip the summer of 1910 canoeing in northern Minnesota (see picture of Margaret in middy blouse looking over her shoulder in canoe - hanging in Intervale house). Alice Lee Hardenbergh was the only one of the 4 children born in Hpls. Clarence was very successful in Kansas City becoming head of Southwestern Milling Co. (King Aristos flour) and President of the Kansas City Board of Trade before being called back to Minneapolis in 1929 to be Manager of Commander Larabee Killing Co. - later taken over by Archer Daniels Midland.

Clarence was on the St. Marks vestry and President of the Board of Wells Memorial - a settlement house in midcity started by St. Marks when it moved away from the downtown area. He was also President of the Episcopal hospital, St. Barnabas. Margaret taught Sunday School and was the 2nd President of the combined womens organizations of the church, St. Marks Women's Council. She has always been extremely active in the church, from singing in church Rummage Sale theatrics, to amusing old ladies in the church home with monologues, to advising the rectors on matters of Biblical quotation!

For the rest of the Hardenberghs' lives in Minneapolis you can still acquire first hand information from Granny, the Collis Hardenberghs, Estie and me!
Sources: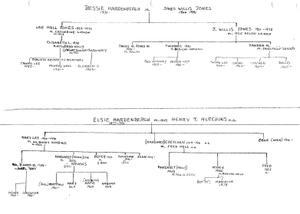 Bromley, Edward A., MINNEAPOLIS PORTRAIT OF THE PAST. Voyageur 1973
Jones, Thelma, ONCE UPON A LAKE. 1969 Edition
Rood, Dorothy Bridgman, Atkinson A, Carroll K. Michener, ST MARKS - A PARISH CHURCH AND A CATHEDRAL. 1953
Scrapbook: HARDENBERGH HEADLINES(at 66 Groveland Ter.)
Hardenbergh diaries
Lee family history - handwritten notes
Hearsay
November 1974
Mary Hardenbergh Dethier