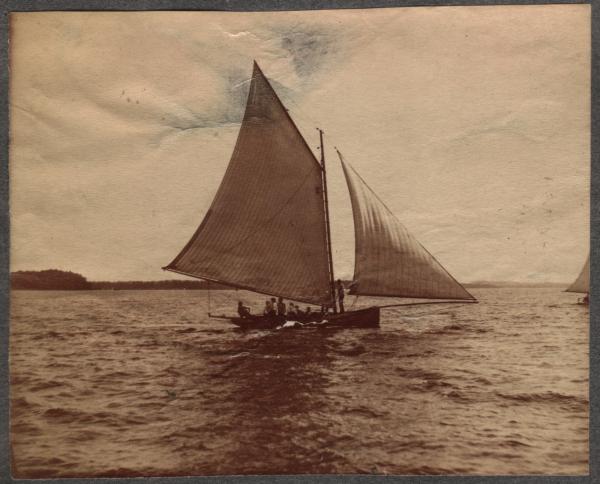 SAILING AND ICE BOATING - Wayzata Historical Society:
One of the thrills that has been a permanent attraction of Lake Minnetonka is that of racing through the wind. The sloop Mary Lee was built by Leaman & Johnson in 1878 for Charles M. Hardenbergh. Before center keel sail boats, sandbags were moved around wherever weight was needed so sloops were cheerfully dubbed "sandbaggers." Lake sloops reached a maximum 24 feet long. There were no crew or ballast sailing rules until 1889. A land-lubber could rent the "Sue" from John Keesling at Wayzata, occasionally with mishap.

The spring the Hattie May steam boat began shooting between Excelsior and Wayzata in 35 minutes, Hardenbergh had his 34 acres on Harrington Point cleared. The lakeshore was shared together with J.A., C.H., & L. Christian. Their brother, George Christian, had sold his milling interests to them the year before. The Hattie May blew up later in the summer, but the Hardenbergh-Christian families still own Spirit Island off Harrington Point.

Ice boating followed suit in the winter months. Rivaling the fastest trains, the best were clocked between 80 and 100 m.p.h. Ice boating has continued on the lake ever since. It's amazing to think that these 19th century boats achieved speeds similar to ice boats of today.
Source: May 4, 1878 Tourist & Sportsman, Jan and Chalmers Hardenbergh, Jenny, Joanie Holz's source books

The Mary Lee was names for Charles's wife. Fred won the trophies below with the Mary Lee?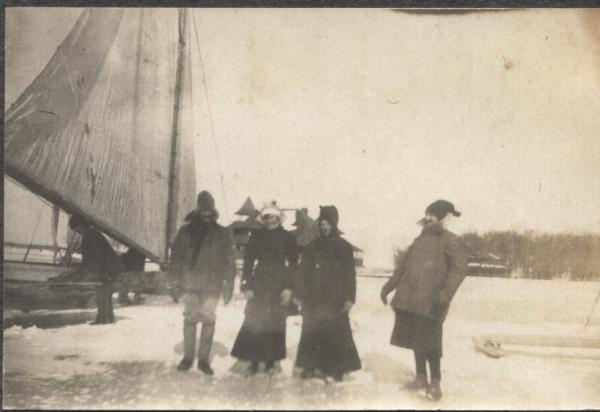 Ice boating in 1902. From keft to right: Ward Burton, Florence Harrison, Elsie Hardenbergh, and William Penrose Hallowell.

Maisie Hardenbergh Dethier writes:

Ward Burton, big sailor and skiier, competitor of Hardenberghs, several generations, one of many suitors of Else H., lived in Wayzata next to Yacht Club. His children our ages, and our friends and competitors.

Florence Harrison and sister and brother many generational friends of Hardenberghs..artists etc.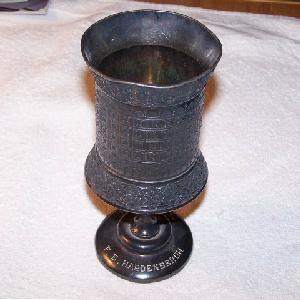 Neat photo of the Mary Lee loving cup from Minnetonka Yacht Club. Why not won by 18 yr old Fred Eugene Hardenbergh since it says F.E. Hardenbergh? A feather in his staid hat! Fred is in the
Portrait Cards from the 1800's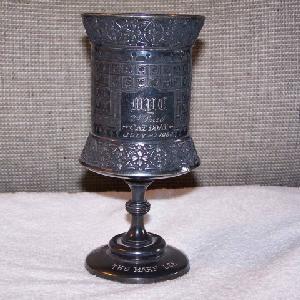 Minnetonka Yacht Club started in August 1882. At Lookout Point, which is the point of land right by Blythewood that points to Spirit Island. The Christians, I think, owned the land closest to the point.