Town Center Intersection <> Timeline and Previous Plans <> Info for 2013 Town Meeting <> Short URL: jch.com/x/tc
Town Meeting 2013 - ARTICLE 19 - TOWN CENTER TRAFFIC IMPROVEMENTS
See Also: Town Center Frequently Asked Questions to inform voters, from the Town website.

This page contains some visual aids that are useful in explaining the Town Center Intersection issues. I believe these show that the center of the intersection will change, but, it is very localized and does not effect the character of the intersections. In addition, there are pages about the Intersection's problems and the Project Timeline and Previous Plans. There are two photoshop visualizations: one from Grinnell Park and one from the North. There are a few images from Virtual Reality, and an Animated GIF.

Before and after images. For the best comparison, use your Browser's OpenInNewTab option on each image. You can then toggle between to two tabs to see changes.
From Grinnell - Before

After

From Grinnell Before

hi-res

From Grinnell After

hi-res

and

Green Poles

From Grinnell Before Zoom

pole check

From Grinnell After Zoom -

Green Poles

From North - Before

After

Cap: TownCenterAbefore.jpg

From North After

Blue

From North Before Zoom

From North After Zoom

Blue
Features of the plan that this images shows:
- North South lane alignment - no more slalom heading south on Concord.
- No overhead / mast arm traffic lights.
- Safe pedestrian crossing of Concord Road and Old Sudbury to get into the Common
- No more transformers
Animated Contours Overlay


There are 5 images cycling here: 1) Current Satellite, 2) Existing Conditions, 3) Engineering Plan, 4) Schematic, and 5) Schematic superimposed on Satellite.

made at http://picasion.com
Virtual Reality
| | | | |
| --- | --- | --- | --- |
| Cap: FromCommonPlan.jpg | Cap: FromCommonXist.jpg | Cap: FromGrinellPlan.jpg | Cap: FromGrinellXist.jpg |
| Cap: VRexisting.jpg | Cap: VRnewDK0415.jpg | Cap: ContoursSatTownPlan.jpg | Cap: ContoursSatTownXist.jpg |
VR Double Panorama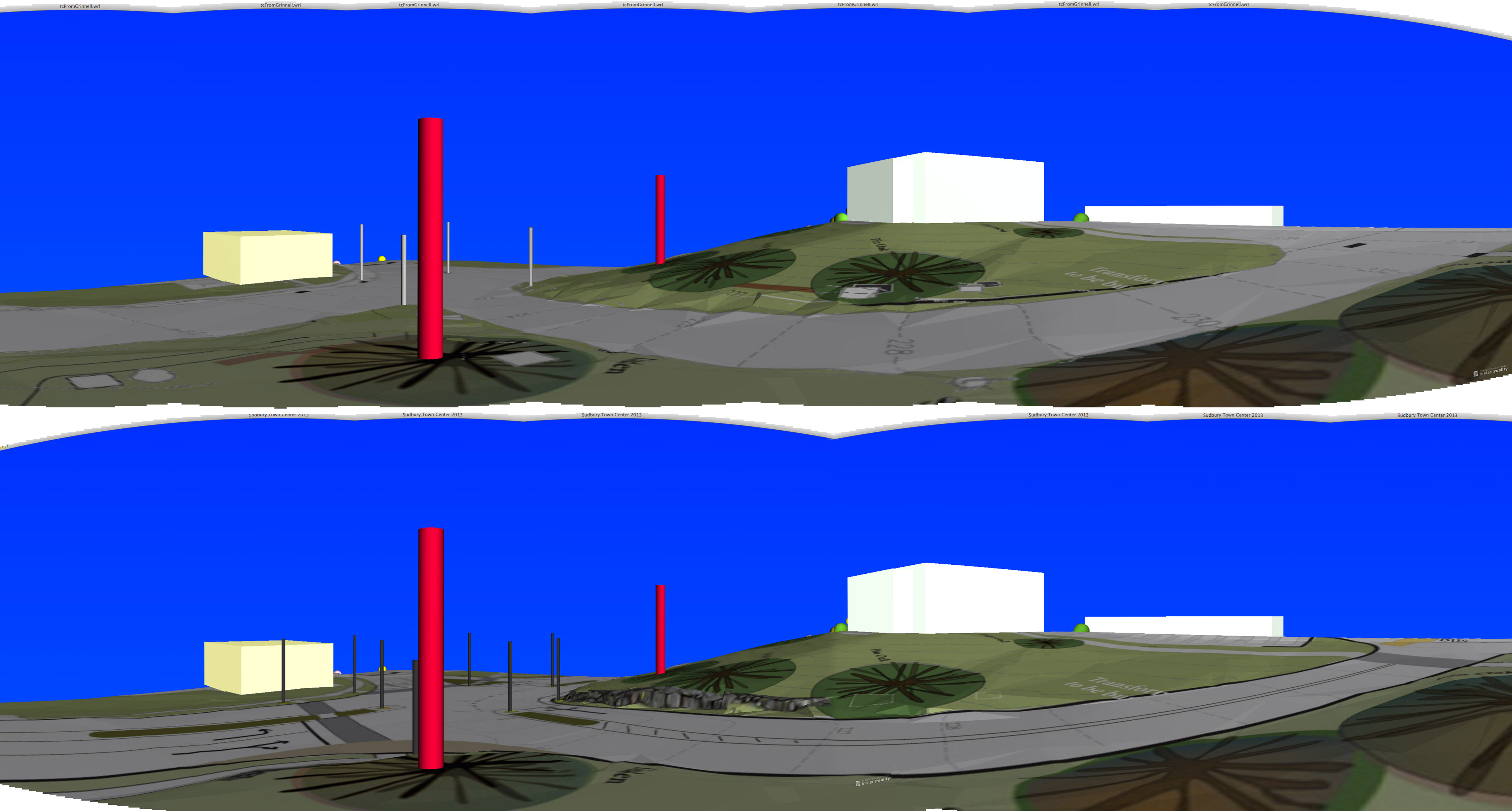 Here are two panoramas: before and after. This show that the visual scale and character of the center as a whole which not be changed. And similar From First Parish
YON - Jan C. Hardenbergh, I am putting this information up as a private citizen. I am a member of First Parish of Sudbury, UU and served on FPS Town Center task force and attended many SCIAC meetings. If you have comments or questions, send me email: jch at jch.com
Town Center Intersection <> Timeline and Previous Plans <> Info for 2013 Town Meeting
last update 2013.04.23 - jch.com/x/tc